Energy crisis is there. Your savings are diminishing through inflation. Your fossil energy bills rise through the CO2 taxes and political conflicts. 99 % of the engineers worldwide work on the same business model with paying customers. The oil industry and governments need to repeat the same dependent energy concept with hydrogen and electricity, because they live off. You are the powerless consumer of something you cannot get hold of. Did you ever ask yourself where the 550 billion Euro European Union Investment on hydrogen are going to come from? Are you going to pay these? Develop your own hydrogen production. It is not cheap, and it will take some effort. But then you can proudly tell you kids: You were not the one, who went on burning fossil fuel and did something for a nicer planet. We do not want to make you frightened. We want to give you hope. So please give us your trust that we can keep on working on that idea of decentralized energy independence. Thanks to all of you who helped us thus far and if you like the idea give us a cheer in the comments. That helps us a lot.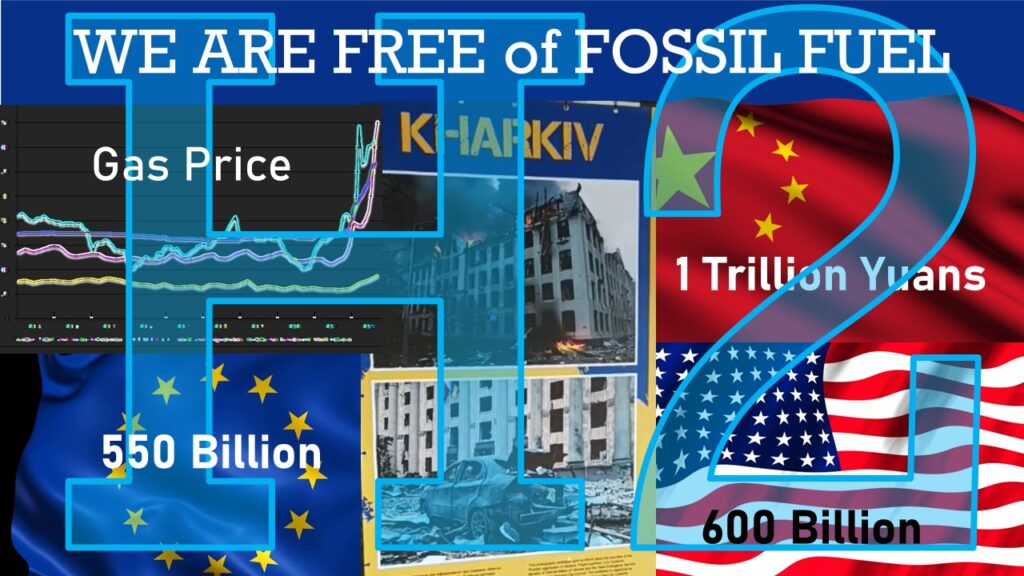 Should we use energy crisis and hydrogen transition to make things better? Or should we build hydrogen pipelines?
My name is Andreas Esser. I became Engineer for renewable energies in housing, because I didn't want to harm my planet, I didn't want to destroy my nature and I do not want to poison my kids. Right now, we are emitting a lot of CO2 in the atmosphere. I'm consuming energy all the time. Renewable energies of course could be part of the solution and even tough lithium batteries can store Energy from sunny days to cloudy days or overnight. We need a long-term energy storage solution.
Hydrogen could make the job, but when I looked on the market for my customers, I couldn't find any products. I met up with small German companies, which were doing research on hydrogen components. Together we combined all the necessary components. From the electrolyzer, which is the heart peace, to the piping system, to the compression system and to all the safty gear, which is necessary to make this machine the safest for you and me. These high-quality products are made in Germany and designed so that they last long and reliably. We want to come back to the old values where things are strong and work for us when we can do other things. I looked at the finished machine which is quite compact. It is one foot deep, two feet high and two feet wide. Then I was thinking, it is not only a long-term energy storage solution. It is the smallest hydrogen fuel station of the world.
But wait. It is nice to save the planet and reduce CO2 emissions, but what can I make with hydrogen? You can convert every combustion engine which runs either on gasoline or natural gas to hydrogen for a couple of bucks. But there are also hydrogen applications like fuel cell cars, fuel cell forklifts, fuel cell bikes, fuel cell heating's, catalytic heaters and combined heat and power stations. But what is hydrogen worth? Is it like diesel, gasoline, or natural gas? At the fuel station you pay for one kilogram of hydrogen 13,85 Euro. In three days the VOLKS-ELECTROLYSER produces one kilogram of hydrogen. Per Day you will earn around 4 Euro 40. Which is a nice income, for doing nothing than waiting for the sun. If we calculate this on a yearly basis it will be around 1650 Euro a Year, you can earn.
How do I get one? How much does it cost?
Right now, we only ask you to make a preorder for 300 Euro. Then when we get hundred preorders you can decide which one of our three models you like. The 30 bar version goes on the market for 18000 Euro, but we offer 5000 Euro early bird discount for all of our models.
Can decentralised hydrogen solve the energy crisis?
You will make money with hydrogen! Next year the Volks-Electrolyzer is going to be 20 % more expensive. Consider investing on noble metals like iridium, platinum, titanium and a lot of good quality 316l stainless steel.
To make value, to emit less carbon and be more Energy independent. Free yourself from energy dependence. The VOLKS-ELECTROLYZER is a gift, for many generations. Your kids are going to be thankful.
Wir bieten 200 € Nachlass für jeden Beitrag in den sozialen Netzwerken mit mehr als 100 Ansichten über den Volks-Elektrolyseur. Verlinken Sie uns dazu einfach mit dem Beitrag.
We offer 200 $ Discount for every post on social media with more than 100 views about the Volks-Electrolyzer. Just link us to the post.
Nous offrons 200 € de remise pour tout post générant 100 vues sur Volks-Electrolyzer. Il suffit de nous relier à votre post.
and check electrolyzer cost of more than 20 hydrogen manufacturers to see our best value
Check the Hydrogen prices to get out of energy crisis before your saving fade away
We design hydrogen systems for you. Simple, affordable and safe are the design methods inspired by low tech and cradle to cradle. The prices of all