The home hydrogen refueling station is the perfect electrolyzer for beginners. It can produce hydrogen, compresses it for energy storage and fuel hydrogen vehicles. It fits in every garage or basement and produces trustworthy hydrogen from renewables with high quality products made in Germany.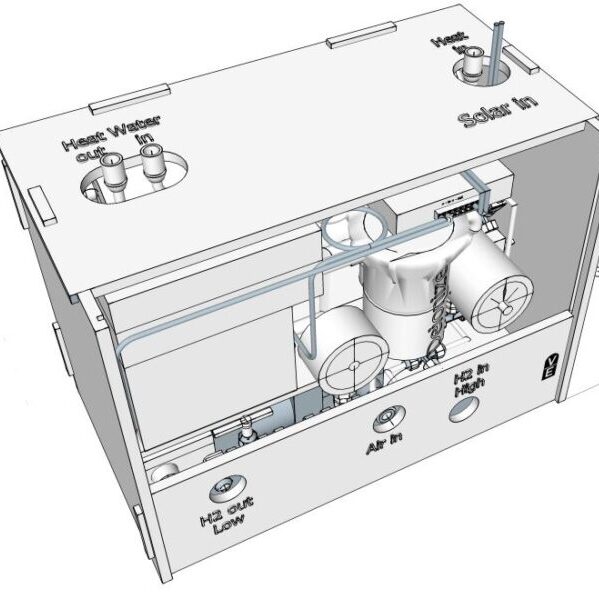 Never again, waste solar energy-make green hydrogen instead
The Volks-Electrolyzer VE H2 Heat is small und durable hydrogen generator with internal compressor. It is used in multi purposes: Hydrogen for businesses, hydrogen for houses, hydrogen for the summerhouse, hydrogen for the Camper Van, Hydrogen for the boat, every place where you find solar, wind or hydro power. The energy storage of the future is portable and can be used for huge energy storage quantities. It works with usual steel cylinders up to 7000 PSI. If you want to see some market ready hydrogen application read this.
Description of the home hydrogen refueling station
The 12 Volt Electrolyzer is made with the best materials. The plates are made from Titanium and Stainless steel. The catalysts on the Nafion Membrane is thick Iridium and Platinum layers. This makes it to a long lasting trustworthy with the best power density in a small size hydrogen machine.
The PEM technology doesn't use dangerous substances like KOH and doesn't need distilled water. Therefor the VOLKS-ELEKTROLYZER is absolutely safe with it pure hydrogen production. The high H2 purity (Hydrogen 5.0) makes it eligible for use in fuel cells and all kinds of hydrogen applications on the hydrogen market. The hydrogen is dried so that there will be no water in your hydrogen storage tanks and thus no corrosion.
The Electrolyzer functions plug and play with deionized tap water. Thanks to its high efficiency just little heat is emitted but can be used for domestic hot water.
You can plug in your Solar array directly or through a battery into the electrolyzer. That reduces conversion losses by direct current DC only. The current should be less than 10 Amps and 100 Volt.
Energy management can be seen via bluetooth and your smartphone.
The home hydrogen refueling station comes as a kit
The Volks-Electrolyzer home hydrogen refueling station comes as a kit to be individually assembled. We offer corses for the assembly with trained stuff. The Volks-Elektrolyzer can store 4,200 kWh or 120 kg of pure hydrogen a year. Multiply this with your local hydrogen fuel station price and you will see your revenue through homemade hydrogen with surplus renewable energies.
| | |
| --- | --- |
| Model | VE H2 Heat |
| H2 Flow Rate(NL/hr) | 160 |
| kWh/h | 0,48 |
| efficiency kWh hydrogen/ kWh electricity | 0,58 |
| kWh/d | 11,52 |
| kWh/a max | 4204,8 |
| kg/d | 0,35 |
| kg/h | 0,01 |
| €/h with 12,5 €/kg | 0,18 |
| O2 Flow Rate NL /hr | 80 |
| Technology | PEM |
| Catalyst Coating Technology | Iridium / Platinum |
| kWh/Nm3 (estimated) efficiency | 5,2 |
| H2 Pressure Bar | 300 |
| H2 Pressure PSI | 2901 |
| O2 Output Pressure Bar | 1 |
| H2 Purity | 99,999 |
| Water Requirement | Deionized |
| Water Consumption ml/h | 756,00 |
| Inside Active | 28,3 |
| Mashine Size in mm | 400*350*550 |
| Input Current Amp A | 63,3 |
| Power Watt W | 830 |
| Single Membrane Voltage V | 13,4 |
| weight (without water) kg | 60 |
| Cell Using Temperature °C | 70 |
| Lifetime h | 40000 |
| H2 Port Size | 1/4′ |
| O2 Port Size | 1/4′ |
| Price € | 29.000 $ |
Elektrolyzer Data sheet
the home hydrogen fuel stations delivery
The delivery varies depending on the country. The production might take one year time. Feel free to share this one and only opportunity to get out of the energy crisis.
Wir bieten 200 € Nachlass für jeden Beitrag in den sozialen Netzwerken mit mehr als 100 Ansichten über den Volks-Elektrolyseur. Verlinken Sie uns dazu einfach mit dem Beitrag.
We offer 200 $ Discount for every post on social media with more than 100 views about the Volks-Electrolyzer. Just link us to the post.
Nous offrons 200 € de remise pour tout post générant 100 vues sur Volks-Electrolyzer. Il suffit de nous relier à votre post.
and check electrolyzer cost of more than 20 hydrogen manufacturers to see our best value
Return
You may return the Volks-Electrolyzer in a unopened and unused and undamaged state withing 2 weeks. You will get a coupon with the value of your model to order another Volks-Electrolyzer product. In case another hydrogen community member takes your returned model a fully refund is possible. The 300 € preordering fee will be deducted.
Payment process of the Volks-Electrolyzer
The payment works on account.
Compare electrolyzer prices
The price list of many electrolyzer manufacturers is only accessible in the members area after the registration. There you can see that our electrolyzer kit is the cheapest on the hydrogen market.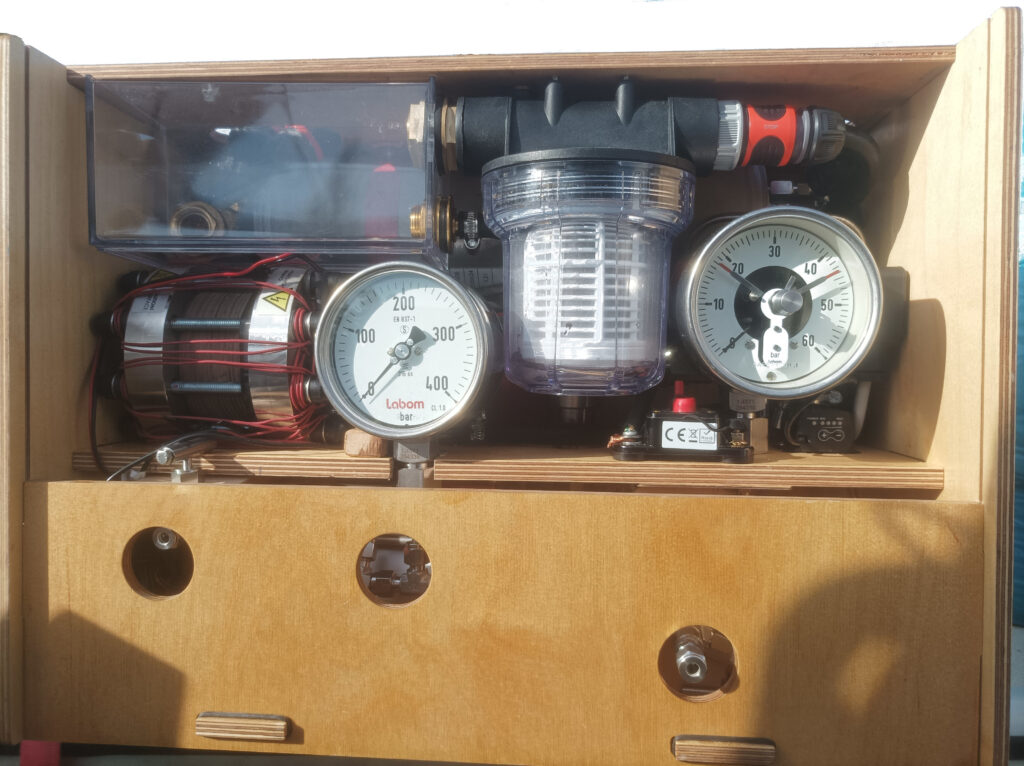 If you need your hydrogen system planned individually to your hydrogen project we suggest our partner engineering office. MEP HVAC green-energy-scout.de