In a hydrogen cylinder one Kilowatt hour is stored for less than 10 $, whereas a Lithium battery can cost up to 1000 $ per kWh. You can discharche a hydrogen storage tank almost endless times. The Lithium Battery withstands maybe 4,000 cycles before your have to pay for its recycling.♻
Hydrogen storage systems are price drivers of the hydrogen economy and can easily compete with lithium batteries. Hydrogen is the energy storage of the future. The very light gas can fit in a car under high pressure. Large low pressure hydrogen tanks with thin walls are safer and do not require additional compression , with the high pressure electrolyzers "made in germany" we use.
The Volks-Electrolyser energy storage is designed according to Cradle to Cradle and fits to circular economy
For pressures up to 750 bar carbon fiber or glass fiber is used in an inseparable compound with epoxy resin.
To protect our customers from unexpected disposal costs, we do not recommend composite materials.
Steel Hydrogen Storage Vessels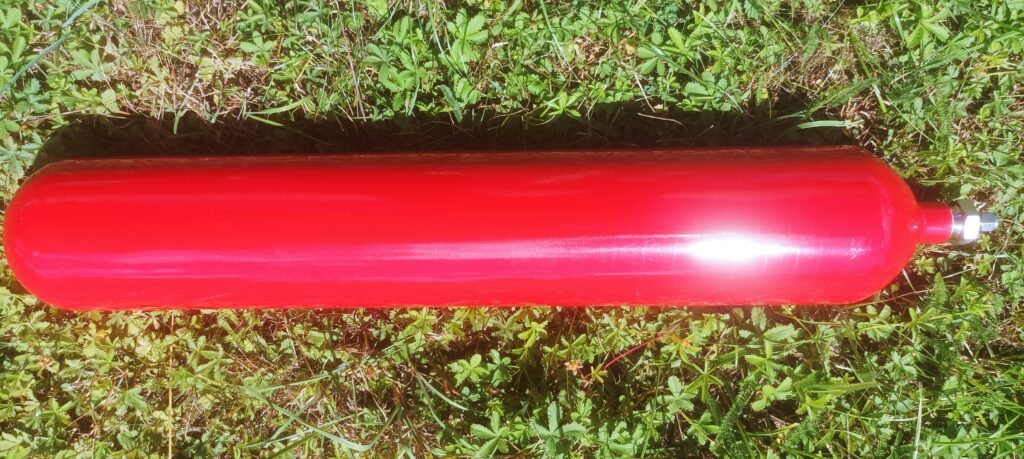 Steel pressure vessels can be easily recycled. For residential hydrogen applications, weight and space is mostly no concern. If space is not available, hydrogen high pressure cylinders bundles are a solution . Usually they are moved in bundles by cranes.
Hydrogen trailers can be used for storage of hydrogen in cylinders, but can also combine hydrogen production and a photovoltaic surface.
It is easy to flush the tanks from contaminant gases by tilting the trailer. They are an inexpensive alternative to bundles and are easy to move.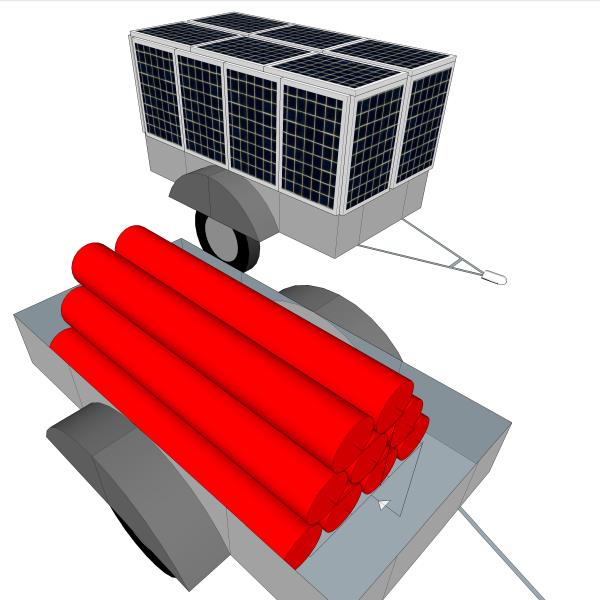 Hydrogen tank for low pressures up to 400 PSI
Such hydrogen tanks are intended for outdoor installation. A possible size is 2641 gal storage volume at 400 PSI. In this hydrogen tank, which is the size of a shed, approx. 27 kg of hydrogen can be stored. That is 5 kg more than in a 300 bar 16 cylinder bundle.
In our members area we have collected some manufacturers of hydrogen tanks in Europe. We have collected the prices for hydrogen tanks in the
international hydrogen price list.
Become a member of our hydrogen community for free.
Are liquid gas LNG tanks suitable for hydrogen?
Attention: LNG has a low evaporation pressure. Therefore, LNG tanks cannot withstand reasonable pressures from the hydrogen range.
Furthermore, the issue of hydrogen embrittlement of steels cannot be neglected. Some answers can be found at the following link.
Special steels for hydrogen tanks as energy storage
Also in the members area of the community you will find the alloys that are suitable for hydrogen. In materials science, these are referred to as austenitic steels.
CNG tanks as hydrogen energy storage
In fact, we wrote to manufacturers for hydrogen pressure vessels who sent us CNG plans. One manufacturer even offered aluminum cylinders. Since this was an English company and the tariffs and standards for cylinder threads are unclear, we did not pursue aluminum hydrogen storage tanks.
The high manufacturing energy of aluminum speaks against hydrogen storage tanks made of aluminum.
The same materials are suitable for hydrogen tanks as for hydrogen pipes.
Stainless steels with a nickel content greater than 15% are suitable for pipes. With our German numbering, the nickel content is specified with very large tolerances. Therefore we advise to use only tubes and hydrogen tanks which are explicitly designated for this purpose.
The American designation is clearer
316l

steel with 15% nickel content
For more Scientific information, check our Partner Engineer article on hydrogen converted solar arrays
Local manufacturers for hydrogen tanks
In our price list you will find many manufacturers for hydrogen tanks. The distance to the hydrogen project can play a decisive role.
Transportation costs for hydrogen storage are a significant factor.
If you are thinking of storing hydrogen, please have a look at our electrolysers.
Wir bieten 200 € Nachlass für jeden Beitrag in den sozialen Netzwerken mit mehr als 100 Ansichten über den Volks-Elektrolyseur. Verlinken Sie uns dazu einfach mit dem Beitrag.
We offer 200 $ Discount for every post on social media with more than 100 views about the Volks-Electrolyzer. Just link us to the post.
Nous offrons 200 € de remise pour tout post générant 100 vues sur Volks-Electrolyzer. Il suffit de nous relier à votre post.
and check electrolyzer cost of more than 20 hydrogen manufacturers to see our best value