Carbotainer S.L in Saragosa Spain produces most expensive carbon fiber reinforced gas cylinders. As you can see in our international hydrogen pricelist in the members area the prices of carbon fiber hydrogen tanks are between twice to five times more expensive than steel cylinders.
5 Reasons not to buy a carbotainer
High-pressure gas cylinders for gas storage are very important for the decarbonisation of our energy sector through hydrogen. In stationary application special Steel cylinders are available but very heavy. Where weight matters, like hydrogen mobility applications the lighter composite material are one option.
1 Carbotainer obliges potential customers to several inquiry attempts to get a price for the hydrogen cylinders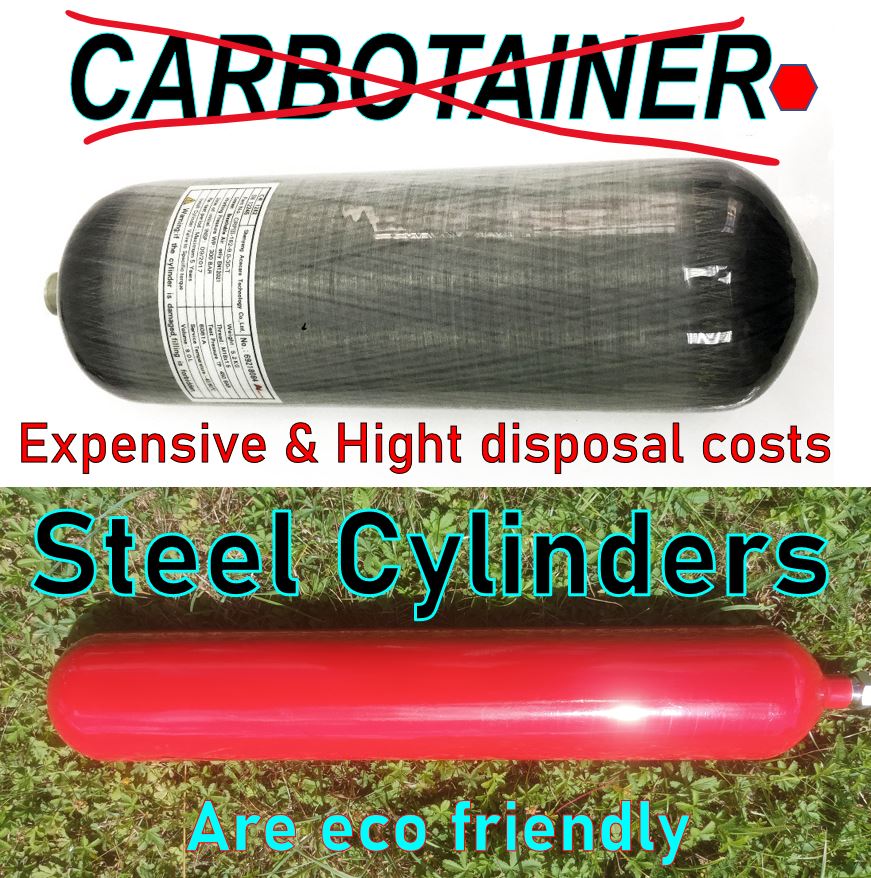 First of all you have to write an email. After two weeks you have to call, because
Maybe the employe at the phone will ask you to call another time. When you have called the carbotainers telephone number enough times,
Carbotainer will ask you to fill out a form.
In this form you copy all the information provided in your Email signature. With a little luck you'll get a quote.
2 Carbotainer doesn't sell to anybody
Carbotainer S.L doesn't sell their products to private persons. Even for small companies it might happen they do not serve you.
3 Carbon Fiber reinforced gas cylinders with aluminium liners cannot be recycled
As we thrive toward circular economy, composite materials are a hazard after the end of service life.
What to do with the light weight hydrogen tank after its use?
Companies like CFK / GFK Entsorgung – ROTH International (roth-international.de) dismantel the materials to reuse as much of the primary material for secondary material. That means materials of lower quality. We call this DOWNCYCLING.
Foresee a budget for the dismantling cost by certified companies of composite material for the end of life scenario
4 Carbotainors do not deliver with valve
As a cylinder manufacturer, we sell the cylinders without valve and install the valve supplied by the customer (as long as the thread is 25E and matches the pressure).
They are TPED EN 12245 and ISO UN 11119-2 certified.

carbotainer
A high pressure cylinder without a valve means more work because you will have to flush the cylinder until the contaminating air is out. Therefore some gas cylinder producers provide them filled with nitrogen or even the required gas.
5 Carbotainer has the worst customer service and bad manners
That makes the work with such companies unpleasant.
The purchase process takes month, wich makes the rapid development of hydrogen applications difficult and expensive.
Even if you describe this misery politely which could have any reason you won't get a response.
Wir bieten 200 € Nachlass für jeden Beitrag in den sozialen Netzwerken mit mehr als 100 Ansichten über den Volks-Elektrolyseur. Verlinken Sie uns dazu einfach mit dem Beitrag.
We offer 200 $ Discount for every post on social media with more than 100 views about the Volks-Electrolyzer. Just link us to the post.
Nous offrons 200 € de remise pour tout post générant 100 vues sur Volks-Electrolyzer. Il suffit de nous relier à votre post.