Download Hydrogen Components in common CAD-Formats like Revit, Autocad, Sketchup. Plan your own Hydrogen project. No login, no pop up – just what you want, FOR FREE!!!
Free Hydrogen AutoCAD files, hydrogen cad library
DXF hydrogen electrolyzer 3d model
DXF, or Drawing Exchange Format, is a widely-used file format in the realm of computer-aided design (CAD) and computer-aided manufacturing (CAM). Developed by Autodesk, DXF serves as a bridge between different CAD software programs, making it a crucial tool in the design and engineering industries. Sadly there are no high tech hydrogen models available for free.
DFX hydrogen electrolyser
DWG hydrogen electrolyzer model
DWG Model of a Hydrogen Electrolyzer. A hydrogen electrolyzer is a vital component in the field of renewable energy and sustainable technology, playing a pivotal role in the production of clean hydrogen gas through the process of water electrolysis. The availability of accurate and detailed CAD models in the DWG format is essential for engineers, designers, and researchers working on hydrogen electrolyzer projects. These models offer a wealth of benefits, facilitating design, analysis, and integration into various systems.
DWG hydrogen electrolyzer
Hydrogen Electrolyzer Revit Family
An electrolyzer has many ports. Medias get in and out at different connectors. An electrolyzer in a Revit Family makes it easy to connect all the necessary ports. We offer a free 3d hydrogen project to be downloaded. Hydrogen is a possible gas in REVIT MEP Piping. So you can calculate hydrogen pressure losses in Revit. Check out the frequently asked questions. Hydrogen Heating can be used in revit or ArchiCAD for innovative Architects and engineers.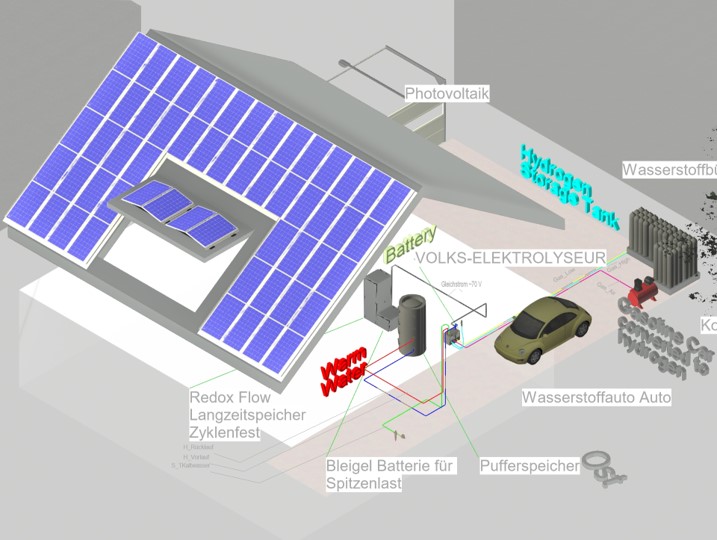 Download all CAD format and data
IFC is a format that can be imported in most drawing programs. We have also other special formats like:

21.09.2023 21:41 7.416 220724_VE.ifc
21.09.2023 21:41 1.476 220724_VE.ifc.log
21.09.2023 21:26 71.872.512 220724_VE.rvt
21.09.2023 21:27 1.071.880 220724_Volks-Electrolyzer.dwfx
21.09.2023 21:29 7.397.835 220724_Volks-Electrolyzer.dwg
21.09.2023 21:39 57.270.626 220724_Volks-Electrolyzer.dxf
21.09.2023 21:41 1.763.616 220724_Volks-Electrolyzer.fbx
21.09.2023 21:40 5.924.134 220724_Volks-Electrolyzer.stl
Stl File can be opened on any windows pc with Paint 3d
80 MB zip file
Check out electrolysers and hydrogen projects in the SketchUp warehouse